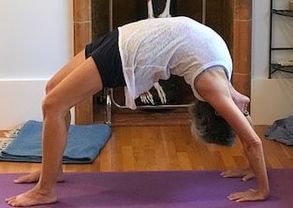 "Action is movement with intelligence.
The world is filled with movement. What the world needs
is more conscious movement, more action."
BKS Iyengar

---

CAROLE MCGEOCH, RDH, C-IAYT, RYT
Carole has been practicing and studying yoga since 1972. During her four years at Cabrillo College studying dental hygiene 1974-1978, she had the opportunity to take yoga classes with Roberta Bristol. Carole completed a Teacher Training course with Kofi Busia, Senior Iyengar teacher and Jaki Nett, Senior Iyengar teacher and regularly attends continuing education workshops at IYNV with Jaki and Allan Nett, IYISF and IAYT. Carole holds a yoga therapy certification from the International Association for Yoga Therapists, September 1, 2016. She is a Registered Yoga Teacher through Yoga Alliance.
Yoga therapy integrates the powers of breath, physical alignment and yoga philosophy to provide a holistic approach to healing. The goal is to teach students how to care for and heal their unique condition with different modalities. The hallmark of yoga is physical alignment, therapeutics using modified poses with the use of props,
mental precision and a soft breath to create a relaxation response.
Private yoga therapy sessions available.
Carole's Current Studies
Jaki Nett's 2018 Study Group meets regularly at IYNV, St. Helena, CA.
Jaki's Winter Workshop Mentorship February 3-4, 2018 at Lake Yoga.
Four day Symposium on Yoga Therapy in June 15-19, 2017 at Newport Beach with the
International Association of Yoga Therapists.
Finding Freedom Within with Stephanie Quirk at IYISF~ November 11-13, 2016
Jaki Nett's Anatomy and Asana Yoga Retreat Yearly Event~August 4th-11th, 2017.
She is a Certified Yoga Therapist (C-IAYT) and a member of IAYT (International Association of Yoga Therapists)
and IYNAUS (Iyengar Yoga National Association of the United States).
Registered Yoga Teacher (RYT) with Yoga Alliance.
NANCY RHOADES
Nancy has completed her yoga teacher certification training at Body Works Integrated Yoga
and Stress Management Program under Jean Grant-Sutton in Sonoma County.
Nancy has studied yoga with Sue Stiles for ten years and Carole McGeoch for the past six years
and earlier this year with Judith Lasater. She has participated in
multiple workshops with Jaki Nett, Kofi Busia, Baxter Bell MD and Anne O'Brien.
She holds a Masters degree in Behavioral Science and a California State
Multiple Subject Teaching credential for grades K-12.
Contact Nancy at:
nrhoades@pacific.net
or 707 349-1450.
SUE HERRMANN, RN, RYT
Sue Herrmann completed her yoga certification in October of 2017. She began studying yoga at the age of 55 in 2004 after she competed in her last triathlon. Her career as a Registered Nurse led her to believe that her exercise habits needed to change or she would be headed toward joint surgery due to years of "joint" abuse.
"I started yoga with Sue Stiles in Lakeport with the goal of stretching and improving my overall flexibility. Over time I learned that yoga did improve my physical well being but also contributed toward a calmer mental attitude. Now I see my yoga practice as my opportunity to age as gracefully as I possibly can."
Sue received her yoga certification from YogaShala Napa Valley under the instruction of Senior Iyengar, CIYT Instructor Jaki Nett and Junior Iyengar, CIYT Instructor Allan Nett. She studies with Jaki and Allan quarterly and weekly with Carole McGeoch.
Contact Sue at:
sueherrmann49@gmail.com
or 707 350-2257.